Continuous hot water supply without the cost of electricity.
Produce hot water at a commercial scale with the power of sun
Solar water heaters also known as solar thermal systems, concentrate heat from the sun to boil water through out the day. Store hot water in insulated tanks to supply continuous water for hotels, hospitals, commercial buildings and a wide spectrum of commercial usage. Reduces your energy usage and electricity bills significantly in an environmental friendly and sustainable way.
Engineered to achieve high efficiency in heat absorption and maximum utilization of solar thermal energy to boil water quickly.  Installed with a very high quality insulated water tank, the system minimizes heat loss to provide hot water all day.
Benefits of installing a solar water heater
Inquire about our products and services

Prominous Solar is helping clients across the whole of South India and expanding further.
You could follow us here in our channel. We publish our interviews, educational videos and projects.
Find out more about how to gain control over your power requirement and reduce energy costs with solar power plants.
Gives you the power to generate solar power and also store it, so that you can use even during power cuts.
Solar water heaters concentrate heat from the sun to boil water through out the day.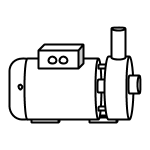 Life saver for agriculture and farmers. Solar water pumps comes with long life and minimal maintenance.